Custom Build


Thank you for your interest in customization aluminium toolbox with us! The guide is going to illustrate the procedures of placing orders of customization toolbox.
1. Customization with the models we have:
Browsing all our models first, if none of their sizes meets your application, plesae DO NOT hesitate to choose our customization service.
First of all, choose with model you want to customize. You can find the model number in the item description page: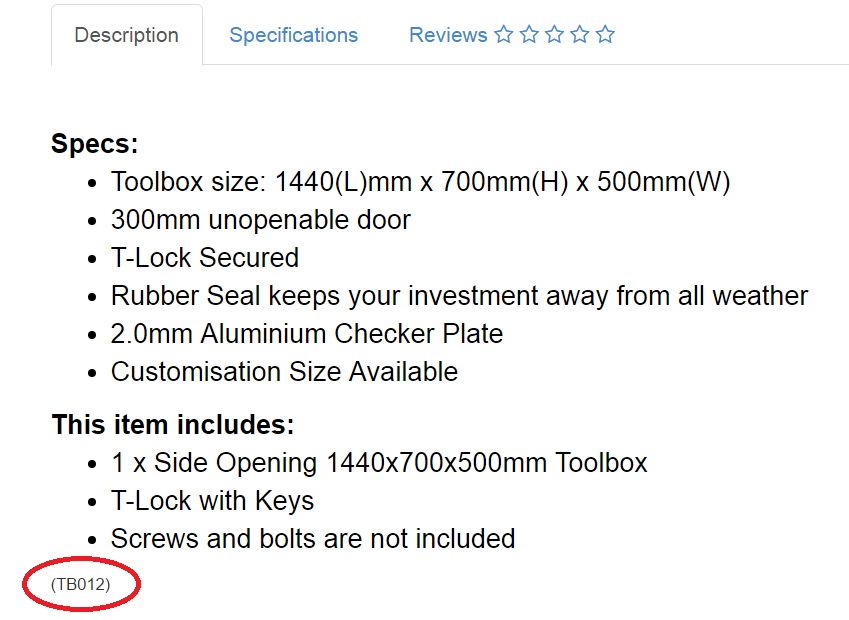 Once you find the model number, you can send us a message by complete the form down below with the information as following:
Model Number: TBxxx (eg. TB012)

Size: L x W x H (mm)

Material: Aluminium Checker Plate / White Powder Coated Aluminium / Black Powder Coated Aluminium

Thickness: 2.0mm / 2.5mm / 3.0mm offered (All measurements include checker if checker plate was selected)

Number of Drawers: xx (if applicable)

Size of Drawer Unit: L x W x H (mm) (if applicable)

Shipping Post Code: xxxx (Australia Only)

Contact Number: xxxxxxxxxx

Email Address:

Notes: (Put other notes as desired)
2. Custom your own design
We believe that your design would best suit your application, so we accept custom build beyond our current models. Please send your idea in draft to our email address info@eztoolbox.com.au or submite the Custom Build Enquiry Form down below, our expert prodcut manager will contact you to discuss with you and make it unique to the world as soon as possible.
We will reply to your request within 3 business days with draft design. If there is modification requried, please send us message again. Our warm draft team will discuss with you and modify the draft until your confirmation. Then we will work out the quote including the freight to your shipping postcode.
We will need to charge 30% of total amount as deposit prior to production stage.
The whole time of production and shipment to Our Victoria warehouse takes approximately 45 days, we will inform you once we receive it. The amount due must be paid off via our website before the shipment to your door.